We Have 3 Gifts For You
This

Valentine's Day

To Show You
How Much We

Love

Your Business!
Finally, a Valentine's Day gift that won't make you fat or give you cavities! During the entire month of February, we're having a special event for all of our clients (new and old) to show them a little love and appreciation.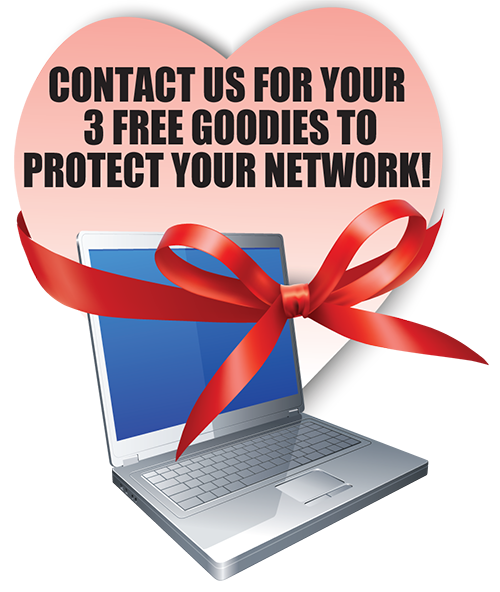 A FREE Gift – Our New Book. Call us during the month of February – a repair, an upgrade or even a quote on a project – and we'll give you a free Valentine's Day Gift, our new book – What Most IT Consultants Won't Tell You About IT Support For Your Business.
A FREE Network Audit ($675 Value). Are you worried about viruses, spyware and hackers? Are you curious about whether or not your business could be moved to the cloud? Are you uncertain about how safe your data is? Would you like to know for sure if your backups are really working? Then contact us during the month of February and we'll give you a FREE Network Audit ($675 value) to conduct a thorough investigation into your com- puter network to look for early warning signs of data loss, extensive downtime, viruses, hacker attacks and other hidden threats to the safety of your data.
A FREE Month of Data Back-up ($597 Value). Sign up for our data backup service during the month of February and your first month is FREE! Everyone knows that you need to back up your data – but did you know it's critical to have an off-site backup in case of fire, flood, theft or hardware failures? Don't lose everything! Sign up for our data backup service and you'll sleep a little easier at night knowing your data is safe.
Contact us Before

February 28th

to claim one
or more of your FREE gifts! Phone: 312-948-8447
Fill Out The Form
To Claim One or More
of Your
FREE Gifts!
Important! We hate spam as much (or more!) than you and promise to NEVER rent, share, or abuse your e-mail address and contact information in any way.

Before coming to Jexet Technologies, I used several IT persons to manage my computer system. This turned out to be a big mistake because there was always one problem after another in my office, and there was no consistency to my system.
Dr. Eric Barnes, Orthodontist