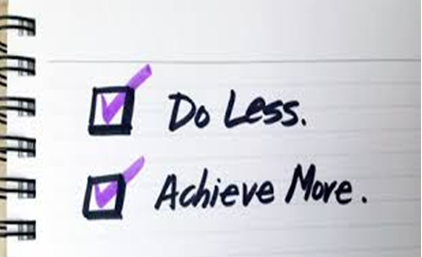 The concept that you could realize huge success by doing less is fairly pervasive and awfully seductive. In fact, you're seduced you into reading this article by using that concept in the title. We all want to believe there's a magic trick that would allow us to achieve the things we want, while spending more time watching movies or going for long hikes with friends.
It's not that you can't ever do those things, but the truth is that no entrepreneur or business owner succeeds by doing less overall. What does lead to great success?
Doing less of the things that don't meet your true value and doing more of the things that do.
For the owner of a business, entering numbers into a spreadsheet or updating social media channels are rarely activities that meet your true value. So, how do you orient your day and your business so that you're spending more time on the big picture projects and strategies that will lead to growth and less time on the day-to-day activities that keep your business going.
Create systems
Part of your job is identifying items or processes that are repeatable and can be documented. But, if you haven't created systems, you'll need to make space in your schedule to define the processes that make up the role or tasks you're planning to delegate. Depending on the skillset of the person you hire to take over the task, you may be able to rely on them to create systems for you.
Unfortunately, a lot of business owners have trouble trusting that someone else can do it better than they can.
We tend to assume that – if given the responsibility – most people will try their best, and that any potential failure serves as a useful learning experience. But, this approach doesn't feel comfortable for everyone, and that's where systems can be really helpful.
You can mitigate the risk of failure by thoroughly documenting your processes. If you have a well-documented process, you're less dependent on an individual's particular competencies. As long as they can read or use a computer, they should be able to follow the process you've created.
Plan for your time
Often, when business owners delegate a task, they fail to take a really important pre-delegation step. They don't set goals or create a plan for how they'll use that newly available time.
If you wait until you have free time to decide what you're going to do with it, you'll just end up filling it with the most urgent thing that needs to be done at that moment. And, chances are that urgent thing doesn't meet your true value.
Besides, setting a goal will help motivate you to take the steps necessary to delegate.
Delegate where you can
Because the day-to-day activities of your business have to keep happening, the only way for you to do less of them is for someone else to do more of them –aka delegating.
Passing along a task to someone else gets it off your plate, but you could actually experience a bigger benefit. An employee or contractor who excels at the tasks that aren't your core strengths can often see improvements where you can't. They're operating in their prime skill zone, whereas you were simply doing a thing that needed to get done.
That's exactly what Jexet Accounting Solution does for our clients. We encourage them to let go of the accounting and bookkeeping task so that they can spend their time and energy focusing on their core strength.
Jexet Technologies created a business solution for SMB that is designed to aid business owners in the process of freeing up your energies and enable you to focus on building your brand, your growth and profitability. By signing up with Jexet Accounting Business Solution, you can be sure that all the complicated accounting and financial difficulties will be taken out of your way. Here are some services that we have to offer that:
Monthly bookkeeping services and management of account payable and account receivable
Jexet Technologies will manage your payroll service with minimum cost
Jexet Technologies will build an E-document management system to make sure you are prepared whenever there is a need
Year-end clean-up when you want someone to review your file to ensure it is accurate and all financial reports are done correct.
We handle bank reconciliation on monthly basis and regular tax routine
Any other special requests you may have
Learn more about Jexet Accounting+ Solution and find out how we can help you leverage the playing field.
Do you want to know what your current accounting environment is?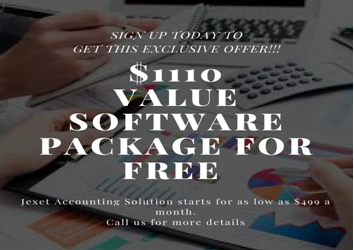 Doing less probably won't move your business forward. But, doing less of the stuff that doesn't meet your core strengths and more of the stuff that does? That will set you on the path to success.