If you are a small business owner in the Chicago area, you can always count on having QuickBooks and Accounting needs. Jexet Technologies can provide you with assistance that you need. Our dedicated finance team will take care of the time consuming accounting tasks and financial issues and all you have to do is be focused on growing your business, where your time and effort are more needed.
Sixty-four percent of small businesses have invoices that go unpaid for 60 days or more. One of the major reasons is that most small business invoices are sent by outdated, manual methods. Now, small businesses can create invoices electronically and "payments-enabled" — meaning their customer can click a simple link to pay electronically, enabling the invoices to be paid two times faster. These invoices can be created in less than a minute, including all their hours worked, expenses and mileage.
QuickBooks now offers one-touch electronic invoicing. It is the only platform where a small business can have an invoice paid today and make payroll with that money the same day.
What can QuickBooks do for you?
Effortless Invoicing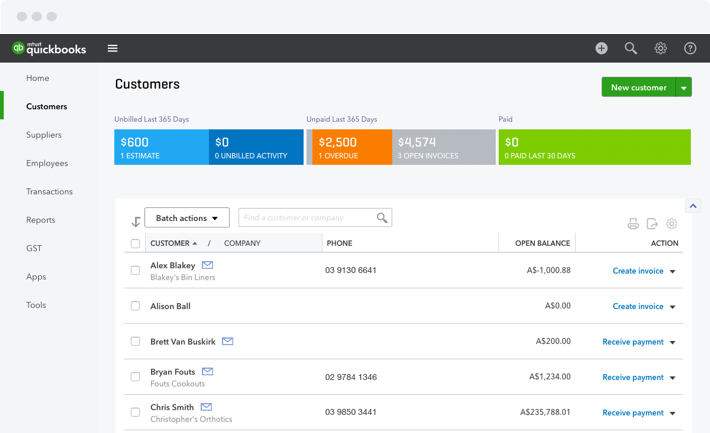 The new QuickBooks payments strategy will make it easier than ever for small businesses to send invoices their customers can pay online. Key functionality includes:
Easy Sign-up Process: It currently takes the average small business 33 clicks and 48 hours to apply for a payments account. QuickBooks has dramatically streamlined the process so that every customer can get a payments account. It now takes just three clicks and about one minute for a new QuickBooks customer to send a pay-enabled invoice. This new sign-up process has more than doubled the number of QuickBooks customers that can send electronic invoices.
"Pay Now" Link: Once set up with their payments account, small businesses can customize invoices with their brand and easily send invoices with a "Pay Now" link. Their customers then have the flexibility to pay online by credit card or free bank transfers. QuickBooks users will also soon have the option of accepting payments by PayPal and Apple Pay.
Smart Invoicing: Small businesses are notified about what is happening with their invoices every step of the way, so they can see when their customers receive, view, and pay invoices.
Jexet Technologies recently launched our new Business Solution to aid business owners in the process of freeing up your energies and enable you to focus on building your brand, your growth and profitability. By signing up with Jexet Accounting + Business Solution, you can be sure that all the complicated Accounting and Financial difficulties will be taken out of your way. Here are some services that we have to offer:
Jexet Technologies will Setup your business with QuickBooks for the first time.
Year-end clean-up when you want someone to review your file to ensure it is accurate and all financial reports are done correct.
Monthly bookkeeping services
Monthly or Quarterly review services when you want someone to review your work on a more frequent basis
QuickBooks Training
Any other special requests you may have
Sign up for a FREE consulting service and we will assign a business and technical hybrid consultant to evaluate your current accounting environment and we will give you a report so you know where to go.
Click here to sign up!
CALL US TODAY: (312)583-7254
Email:

[email protected]


To learn more, you can visit our website at www.jexet.com